by IPB Aquaculture Student Association (HIMAKUA IPB)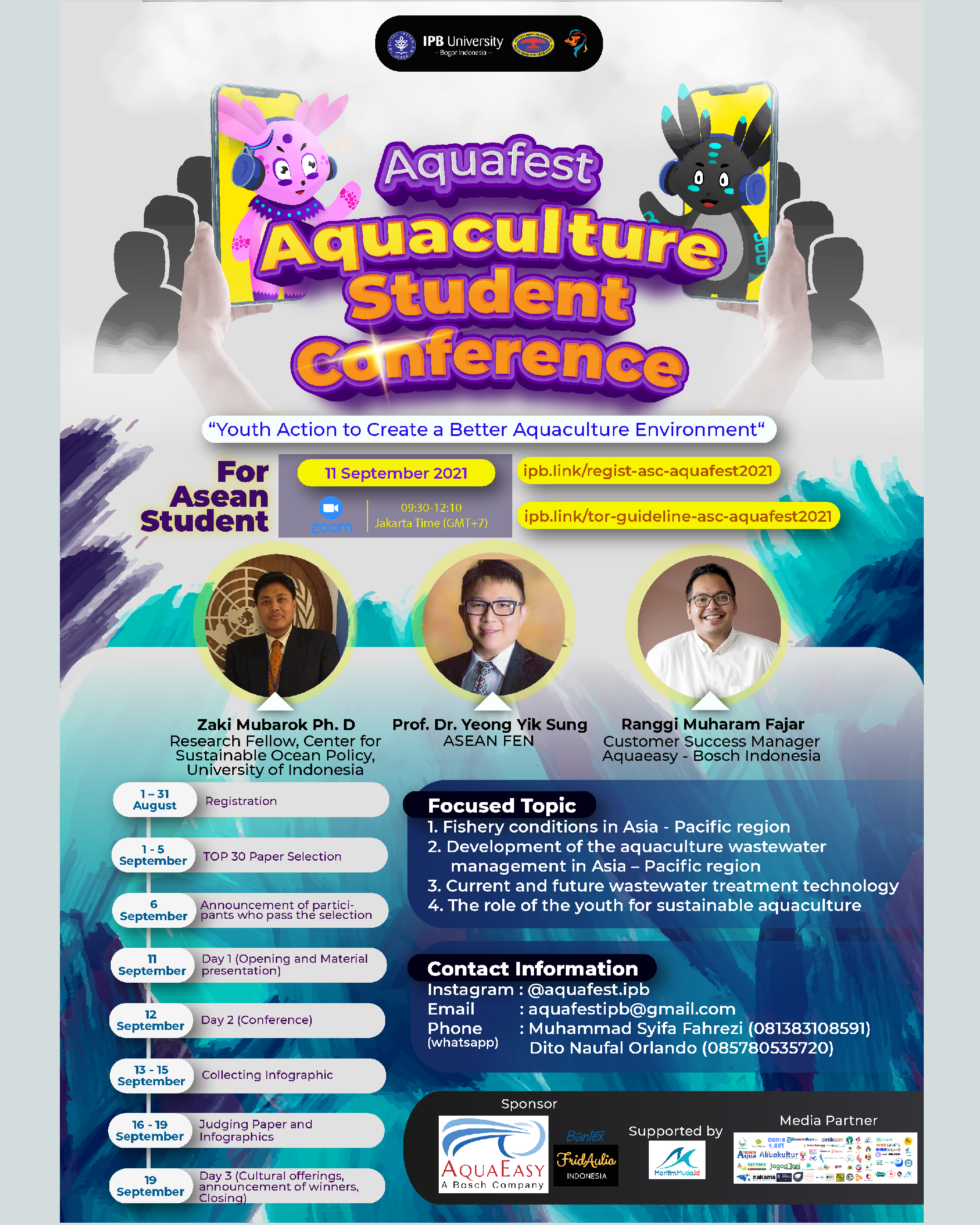 Hello, smart people!
This year, AQUAFEST PROUDLY PRESENT to you
💡 AQUAFEST : AQUACULTURE STUDENT CONFERENCE 2021 💡
Aquaculture Student Conference (ASC) is a conference where students can discuss important issues related to sustainable aquaculture include problems that occur in the aquaculture sector, especially in the aquaculture environment, both pre-production and post-production.
💡The Main Theme
"Youth Action to Create a Better Aquaculture Environment"
💡 Speakers
The compelling material will be delivered by our three amazing speakers.
👤Prof. Dr. Yeong Yik Sung (ASEAN FEN)
👤Zaki Mubarok Ph. D (Research Fellow, Center for Sustainable Ocean Policy, University of Indonesia)
👤Ranggi Muhammad Fajar (Customer Success Manager of Bosch Indonesia)
💡For more Terms and Conditions can be accessed at http://ipb.link/tor-guideline-asc-aquafest2021
💡Registration link can be accessed at http://ipb.link/regist-asc-aquafest2021
💡 Timeline
📌Day 1 (sept'11)
•• Opening and Material presentation
📌Day 2 (sept' 12)
•• Conference
📌Day 3 (Sept'19)
••Cultural sharing and the announcement of the winners
📍: Zoom Cloud Meeting
Keep up to date and attend this event to get some benefits such as:
✨Practice skills of public speaking, problem solving, analytical and critical thinking
✨Get amazing experience
✨Become a bridge for students to convey their ideas and concerns to the authorities
regarding aquaculture issues
So, what are you waiting for?!
Make sure to register, attend, and share your ideas with us!
💡Open for all of ASEAN college students
Further Information
📞Muhammad Syifa Fahrezi (081383108591)
📞Dito Naufal Orlando (085780535720)